IP cameras - Part 2
This is the second part of the article on IP cameras. If you have not seen the first part, I recommend you to first read by clicking this link: IP Cameras - Part 1
Designing IP systems in a smart and efficient way
From what was explained in the first half we can draw the following observations:
- Fully IP systems can not be considered as CCTV systems;
- Due to its low reliability, IP systems are not recommended for video surveillance applications;
- One can not ignore the advantages of remote access to the images provided by the IP technology;
- CCTV systems don't need to be IP end to end;
- DVRs do the same functions as IP servers, with the advantage that they can also record images;
- Now you can have Full HD resolution (2 Megapixel) with analog cameras.
CCTV systems don't need to be IP end to end
No, they really don't.
For surveillance purposes, the concept of CCTV must be preserved, ensuring that there will be images being recorded 24 hours a day without interruption.
Then the best solution would be a hybrid system, which can take the best of each technology, something like the setup below:
​

- The system within the hatched area is analog, with cameras connected directly to a local DVR, preserving the concept of a CCTV system as images are been recorded 24/7, in a frame rate and resolution according to customer's needs, totally independent of local network performance or bandwidth limitation;
- DVR LAN port is connected to an Ethernet network point, which allows you to send images to the central security;
- At the central security, a VMS software concentrates images from all cameras;
- Only the live video streaming is sent to the security center, as images are being recorded locally on DVRs;
- The no need to send a second video stream for recording, considerably reduces the necessary bandwidth and thus the cost of network infrastructure;
- For the VMS software, it is transparent if there are several IP cameras connected to the network or a DVR. In some softwares, this solution is even more advantageous because it uses the license of only one point to the DVR, rather than a license for each IP camera;
- All video analytics solutions offered by VMS software for signaling events in real time remain valid;
- Image recording rate depends only on how the DVR was set up, and we can even record at full resolution and 30 fps, if desired;
- Images can be viewed at a lower rate and resolution in the security center. If you need to recover any recorded image, it will be recovered in the resolution and frame rate that has been recorded on the DVR, which is much better than the low frame rate and low resolution centralized recording of IP cameras can provide;
- If the network goes down, images continue to be recorded, which proves that this configuration is much more reliable than the conventional IP camera solution;
- This configuration has a much lower cost, compared to conventional IP solution with multiple IP cameras connected to the network and multiple recording servers (expensive!) in the central security.
Follow below some suggestions to implement this hybrid system according to the adopted technology.
Analog DVR with analog cameras
There are no major changes from the build up; will be analog cameras connected to an analog DVR:
​

Tri-Hybrid DVR with analog, HD e IP cameras
Using a tri-hybrid DVR with HD technology ( HD_TVI , HD- CVI or AHD ) allows the use of HD, analog and also IP cameras, all connected to the same DVR:
​

NVR with IP cameras
OK , you are not convinced; still think that IP cameras are the best solution.
Fine, but at least use IP cameras in a smarter way, putting a local NVR recording the images .
Thus, at least in part, CCTV concept is preserved : images to be recorded will only travel on the subnet formed by the local switch, not depending on the main network
​


Some NVRs , like the model to the right, already have a built-in PoE switch, getting very similar connections with an analog CCTV system; only difference is that coaxial cables are replaced by network cables.
A multi-platform system
When a customer decides to reformulate ihis site and turns it completely on IP, it means that he will have to remove all the existing analog system and stay a while without any CCTV system until the new IP system is operating normally.
The greatest advantage hybrid solution offers here is that it is not necessary to turn around the current system to an IP system; existing units can be connected to the VMS software.
Imagine a client with 20 branches. He had already installed analog CCTV systems in 19 of them and, in the latest, just installing an IP system with megapixel cameras, to improve image quality.
The idea was sold to him was to start in a branch that had not yet any kind of CCTV system installed, then change all the other affiliates to the IP system.
But when he realized the investment would have to do in recording servers and switches to deploy a network able to record and monitor more than 300 cameras installed, was startled and, for lack of funds, decided not to continue the process.
Then you come to him offering the hybrid solution, which can be done in steps:
1 - Determine what are the most critical places and the most critical points of these places, where a megapixel camera definition is necessary;
2 - Change analog DVRs of the most critical sites for hybrid DVRs with HD technology;
3 - Change analog cameras of the points considered most critical for HD 720p or 1080p cameras;
4 - Connect DVRs from all sites to a VMS software;
5 - To increase system reliability, install an NVR in the branches that already has IP cameras installed, allowing local recording .
​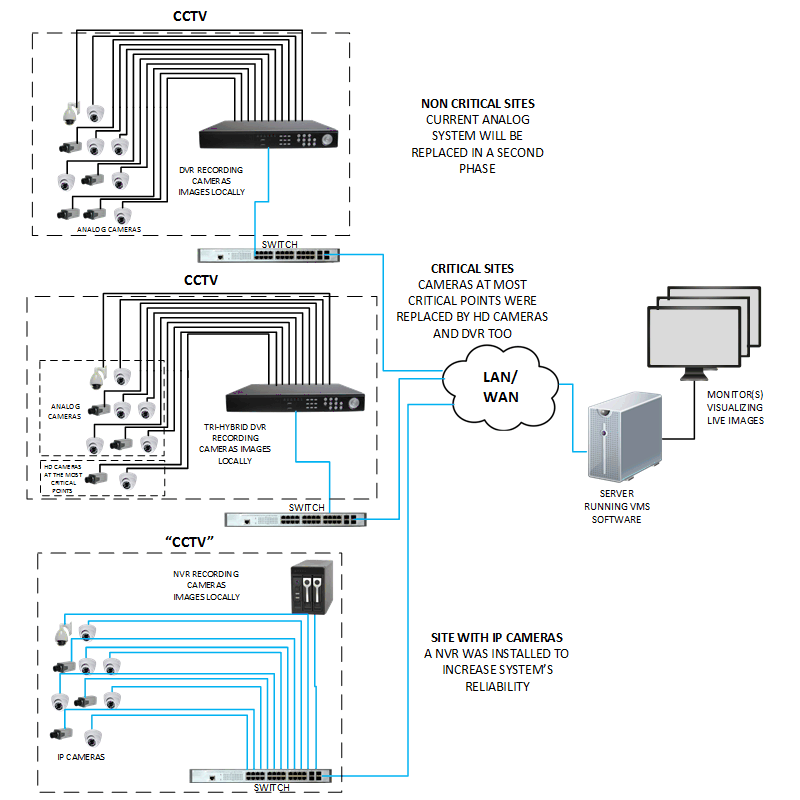 6 - The above steps solved the problem of the most critical points. In a second phase, as the customer will getting more money , you can go replacing all DVRs and other cameras by HD technology.
Optimizing further
Instead of connecting DVRs / NVRs over the LAN / WAN network, where possible, use a fiber optic link to connect DVRs / NVRs directly to the switch which is connected to the server running the VMS software.
Besides eliminating the cost of intermediate switches, optical fiber connections will provide better data stream.
Fiber optic connections can be made directly on the switches, if they have a port for it. Or, through fiber -LAN converters .
Redundancy of image monitoring
As an optical fiber is already being passed, spend another one to connect the video output of each DVR, using appropriate optical - fiber video converters, to monitors in the security room.
​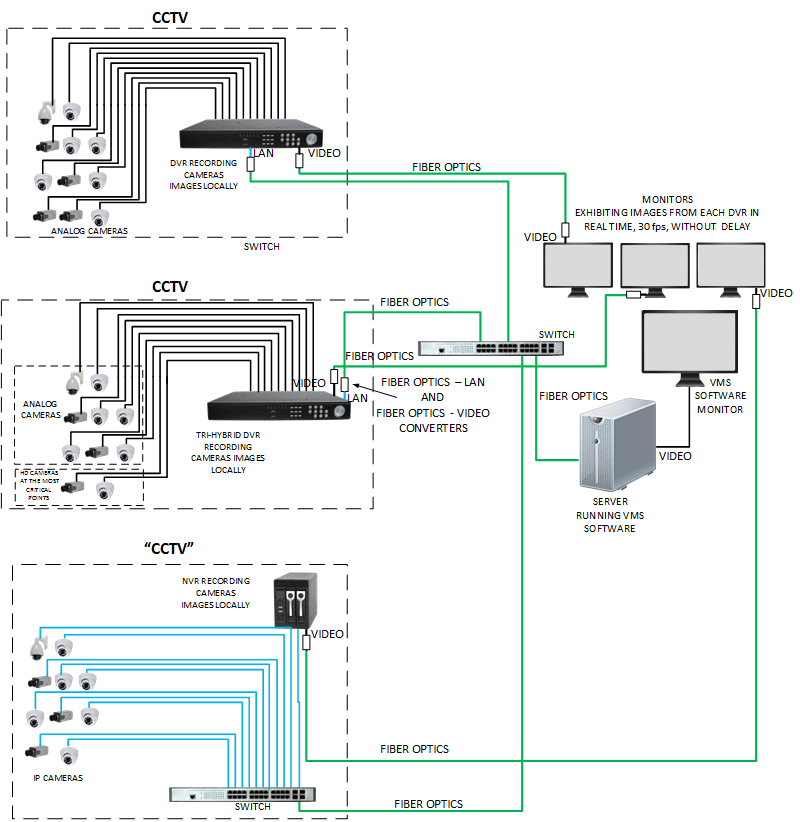 These monitors will display the images from all cameras of each real-time DVR and without delay at all times even if LAN connection fails, leaving VMS software to select and / or put any camera in full screen.
Recording redundancy
For the above system becomes redundant, simply install recording servers in the security room. Thus, images of each camera will be recorded on the local DVR / NVR and security room too.
​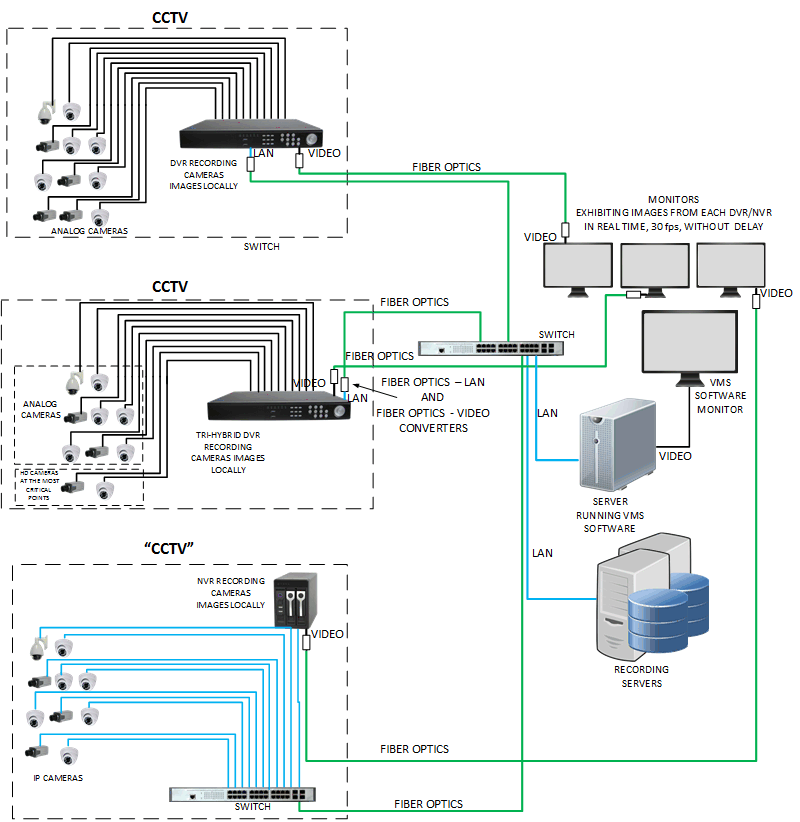 Conclusion
Imagine an industry or condominium with 160 IP cameras all interconnected via network and being viewed and recorded in the central security .
If network goes down or is dropped, live view and recording images process would be stopped immediately .
If security room was invaded, it would be very easy to destroy all recordings made ​​.
If recommendations given in this article were followed, 160 cameras would be analog HD, connected to 10 HD DVRs distributed by the site, each one recording locally the cameras connected to it, no matter if network fails.
It is virtually impossible to overturn this system; even if attacker knew in advance the location of each DVR, he wouldn't have enough time to disable all of them.
Therefore, the hybrid system presented here is simpler, more reliable and cheaper than a conventional IP system.