Cabling - Part 1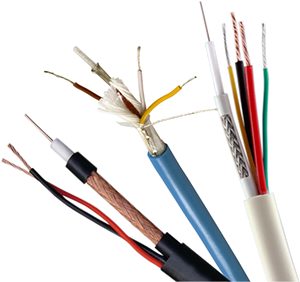 This is the first of a series of articles on CCTV cabling.
In this series of articles you will learn :
- How to choose the most appropriate cabling for each situation, making the most of the performance from installed equipment ;
- How to make a successful project with a high cost / benefit ratio and very low maintenance;
- How to avoid cabling problems and its terrible consequences;
- How to make your proposal the best option for your customer, simply by choosing the right cabling.
Introduction
When you shoot a video with your smartphone, images are captured by smartphone's camera, recorded in its memory and displayed on its screen. If you want to view recorded images, you can pull them from internal memory, display on smartphone's screen or extract them to an external computer or even send them to someone over the Internet.
Any resemblance to a CCTV system ?
In fact , the similarity is great; Your smartphone does everything a CCTV system does: capture, record and display images , all concentrated in a single device. And you can save imagens at the maximum permitted resolution by the smartphone camera, with no delay, no loss of quality or resolution.
But, where similarities with a CCTV system end?
- Smartphones have just one camera;
- On a smartphone, camera, memory and screen are supplied from the same power supply;
- In a CCTV system there are multiple cameras, all far from the record / monitor device.
So the biggest difference between a smartphone and a CCTV system is that the latter has an additional component : the CABLING..
But what would be the best definition of cabling for a CCTV system ?
CABLING IS ALL THAT IS BETWEEN A CAMERA AND THE OTHER END
It is understood by the other end where the images are being recorded and / or displayed .
In a better definition, cabling can be formed only by coaxial cables and BNC connectors ; UTP cables, connectors and baluns ; fiber optic cables and converters or, in an IP system, UTP cables, connectors and switches.
Not forgetting the electrical cabling, which has the function of bringing power to the cameras .
What is the major challenge in an installation ?
Is the video signal from a camera reaches its destination at the same resolution , quality, frame rate and no delay , just like it was sent by the the camera but for this:
CABLING MUST BE THE MORE TRANSPARENT POSSIBLE
Unfortunately, due to physics' laws, we know that this does not occur; there are components along the way to go that reduce, degrade and even delay the original video signal sent by the camera.
So what should be considered in an installation is :
NO MATTER WHAT SIGNAL A CAMERA SENDS; WHAT MATTERS IS WHAT IS ARRIVING AT THE OTHER END
What matters in a facility is the final result , what will be displayed and recorded.
There's no point using a camera with 800 lines of resolution if you will only get 400 lines at your monitor, because part of this resolution was lost in the cabling ; no use sending an image with a 30 fps rate if only 5 fps reach the destination.
In CCTV, cabling is only a supporting system. Once installed, no one should remember it. However, if poorly chosen, it can seriously compromise the performance of a system.
Part 4 - UTP cabling (soon)
Part 5 - Power supply cabling (soon)