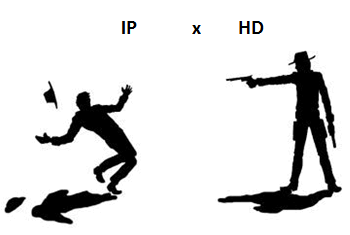 IP cameras became popular when first sensors with megapixel resolution where launched.
Since analog video systems couldn't deliver megapixel resolutions, IP cameras have become the only viable solution to transmit images with resolutions higher than D1 ( 720 x 480).
Thus, despite its many shortcomings, its high cost and the need for an expensive and complex infrastructure, IP cameras have been gaining ground in CCTV systems .
More details in IP cameras - Part 1 and IP cameras - Part 2.
Until came the HD analog technology, i.e., the transmission of Full HD images for coaxial cables that, for the reasons below , is robbing the market for IP cameras :
- The migration from analog to IP is a complex and expensive task :
- All analog cabling is removed to be replaced by structured network cabling;
- The site will be unprotected until the new IP system is deployed;
- Migration has to be done at once, which means that the customer must have funds available for it;
- A good knowledge in networks is mandatory in order to be able to configure the system properly.
- The HD analog solution is simple to deploy:
- Most of the time, only the equipment ( cameras and DVRs ) is changed, maintaining the infrastructure that is identical to that used for analog systems:
- The migration can be done in steps;
- In less than an hour the analog DVR is replaced by an HD DVR;
- The new CCTV system start running immediately after the exchange, because HD DVRs accept analog cameras;
- Analog cameras can be replaced gradually;
- This migration does not weigh on customer's pocket, he can do it gradually, according to his budget
- No need to be an expert in IT to configure the new system.
- HD Analog systems are Full HD, that is, images are displayed and recorded in the resolution of 1920 x 1080 pixels at 30 fps;
- HD Analog systems do not have the characteristic delay of IP cameras;
- IP cameras are limited to 300 ft. (90 m) away from the switch; HD Analog cameras can reach more than 3000 ft. (1000 m) with coaxial cables.
- IP cameras can easily deliver on its output Full HD images, but these images hardly reach the target with the rate of 30 fps, which is necessary for a system to be named as Full HD;
- The claim that HD analog cameras are limited to resolutions up to 2 Megapixels is no longer a reason to use IP cameras because Techpoint, owner of the HD-TVI technology, just announced its first HD analog cameras with resolutions of 3, 4 and 5 Megapixels, which should be on the market early next year.
​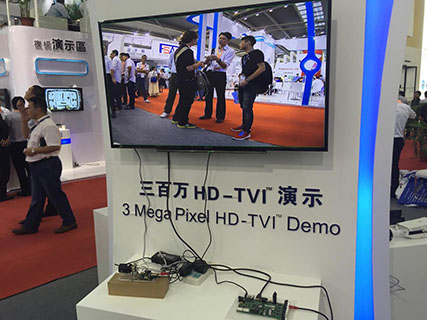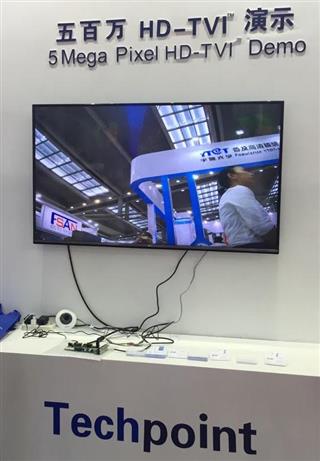 Source:IPVM Source:IPVM
- Also for the coming year is expected the HDcctv 3.0 that will provide :
- 4K resolutions or higher;
- Rates of 30 and 60 fps;
- PoC - Power over Coax - as the PoE cameras, power to the cameras will be sent by coaxial cable;
- Two-way audio transmission;
- All this over a single coaxial cable connecting the camera to the DVR.
Companies that once fiercely defended the IP cameras are already changing his mind , because they realized this trend.
A very well known Korean company - one of the largest IP camera manufacturers in the market - has just launched its line of AHD cameras ...
Not all analog, not all IP
The best solution is a hybrid system; HD analog cameras are recorded locally on a HD DVR that is connected via the IP network to a server running a VMS software :
​

.
More details in IP Cameras IP - Parte 2 - Designing IP systems in a smart and efficient way
This means the end of the IP cameras?
Of course not!
They will still be useful in the functions for which they were originally devised:
- Situations where the installation of a DVR is impractical;
- Isolated cameras;
- Where the distance between installed cameras exceeds the maximum length allowed for cabling;
That is, the monitoring of roads, streets, ports, etc., where there is no suitable location to install a DVR and cameras can be kilometers from each other.
Conclusion
If you, installer or end user, is planning to install a security system with IP cameras, or migrate an existing system to IP, it would be better reviewing your choice ...